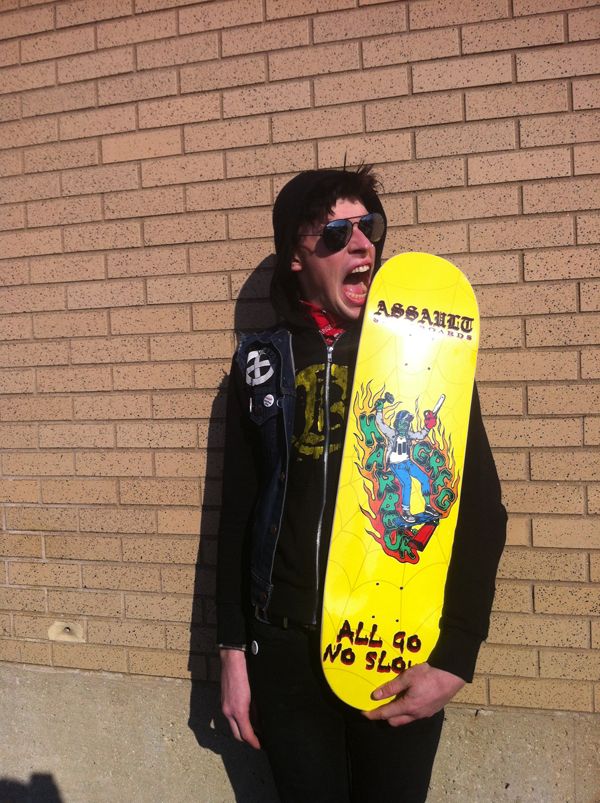 You've seen the sick skate edits of Greg shreddin' all over the place, now take a minute to get to know the man behind the deck.
VSW: If you were the star of a reality show what would the show be called?
GH: Get Dead.
VSW: Outside of action sports what would be your dream sponsor deal?
GH: Chicago Soy Dairy, the best vegan snacks ever!!!
VSW: If you could see any band play, past or present, who would it be?
GH: Black Flag with Dez singing.
VSW: What's the most embarrassing band or artist on your ipod?
GH: Its alllll punkkkkkkkkkkkk!
VSW: Who's the best James Bond?
GH: Sean Connery.
VSW: Do you have a good luck charm that you take with you when you travel?
GH: Negative, get this boy some music and coffee and I'm good to go!
VSW: If your skate style were an animal, what would it be?
GH: Gorilla, long arms clenched fists.
VSW: Coffee drink of choice?
GH: Coffee with soy, all day everyday.
VSW: Philanthropic work?
GH: Tell people it's ok to be yourself, screw normality if its not for you.