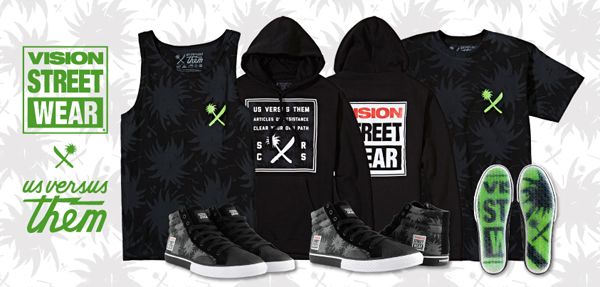 We are proud to announce the release of the first ever collaboration with streetwear brand,
Us Versus Them
. To celebrate the launch of the collection, Vision and UvT will host an event to unveil the new line with
ADBD
on Fairfax in Los Angeles on June 27.
Vision and UvT are both known for straightforward, bold and highly recognizable graphics that set the brands apart from the streetwear world. The collaboration between the brands has resulted in a classic offering of logo driven designs that speak to both the heritage of Vision and the relevancy of UvT. In addition ADBD, as a creator of innovative cultural experiences and a multi-line boutique, is the perfect partner to launch this limited edition collection.
"Being a longtime fan of the brand, I was excited to work with Vision and ideas for the product quickly grew from there. Both brands have a strong philosophy of giving back to the scene they grew up in and not conforming to the market, which is ultimately what brought us together," says James Banuelos, of Us Versus Them.
The Vision Street Wear x Us Versus Them menís collection includes a Suede Hi LTD footwear style, two t-shirts, a tank, a crew fleece and a pullover fleece. The Suede Hi LTD is a new design that combines the iconic Suede Hi silhouette with canvas and suede upper materials, a unique crystal rubber vulcanized outsole and an Us Versus Them asymmetric graphic print throughout the shoe. New, co-branded packaging has also been created just for this special collaboration.
"Working alongside Us Versus Them to create this limited edition line has been a great experience", says Mark Encinias, Brand Manager for Vision Street Wear. "When we found out ADBD would not only house the collection but would also host the launch event, it took the collab to a whole new creative level."
The Vision Street Wear x Us Versus Them collection will be available for purchase starting June 27th at ADBD, on the Vision and UvT websites and at select retailers, including
Hypebeast
and
Active Ride Shop
.